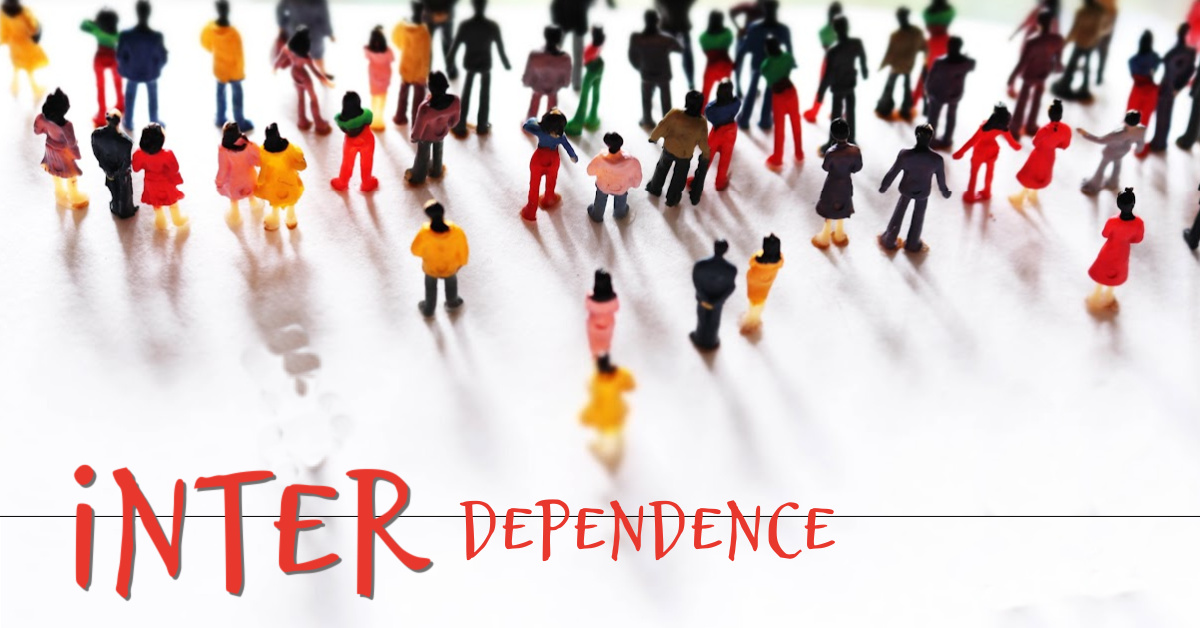 Moving to Interdependence
In search of an employee who is a self-starter and can work independently?  Not me.
In writing the posting for our new IPD Operations Lead role, I pulled out a word that I had not thought about for a while, but it seems like a word we should use more – Interdependence.
Back in a class I took (high school or college – too long ago to remember), I was taught that Interdependence, not Independence, is the real mark of maturity.
The theory was that being able to ask for help when you need it and being willing to support others when they needed it was far superior than being alone on your own island of independence (see the chart below).
However, in American culture, we have our roots in the rugged frontier which still transfers to modern day with the self-made person.  We love a "rags to riches" story where one person overcomes all the odds to gain power and riches.  However, I am sure that if you drill down into these stories, you would discover they are myths.  Even as I think about the terms associated with independence such as frontiersman and self-made man, those terms sound antiquated and out of place in today's world.
Frontiersmen relied on someone to teach them survival skills, and others to support a supply chain, and others to care for children, and others to form towns and cities.  They may have moved outside "the grid," but they used the community for support. They were not wholly independent.
I think too of the rich plantation owners that built the southern economy.  Self-made?  Hardly.  They relied on forced labor- slave labor.  Entire communities of slaves to build their empires and fortunes.  They were not independent at all. In fact, they may have even fallen more to the dependent-side of the continuum.
While we may not use these specific examples anymore, our culture still idolizes the multi-billionaires who presumably build corporations by themselves using their own ideas. The harm of putting the self-made rugged (or now-days contrarian) individual on a pedestal is that we send the message that NOT asking for help or NOT accepting help is the goal.
There are plenty of public service announcements that attempt to tell us that it is OK to ask and accept help for our mental health, but I feel like the step of asking for help is still considered a last-ditch effort to solving a problem.
Interdependence in the Workplace
We hire for the self-starter independent worker and are then surprised that we find that person lacks the skills to be a "team player."
It is time for us to realize that we are not working on an island.  We need to teach people to work interdependently, ask for help early, and work with others to dream big and solve large problems.  We need to cultivate work places that value and respect this balance.
Look for a series of future articles to discuss the philosophy of Ubuntu that provides a framework to lead based on the African worldview of the interconnectedness between people.
* Examples of resources include = ability to comfort, mentor, ability to pay bills, listen, do errands, make purchases, provide advice, recognize limitations, see other's strengths and weaknesses, solve problems, maintain person and home, give grace