September Expert Insights Webinar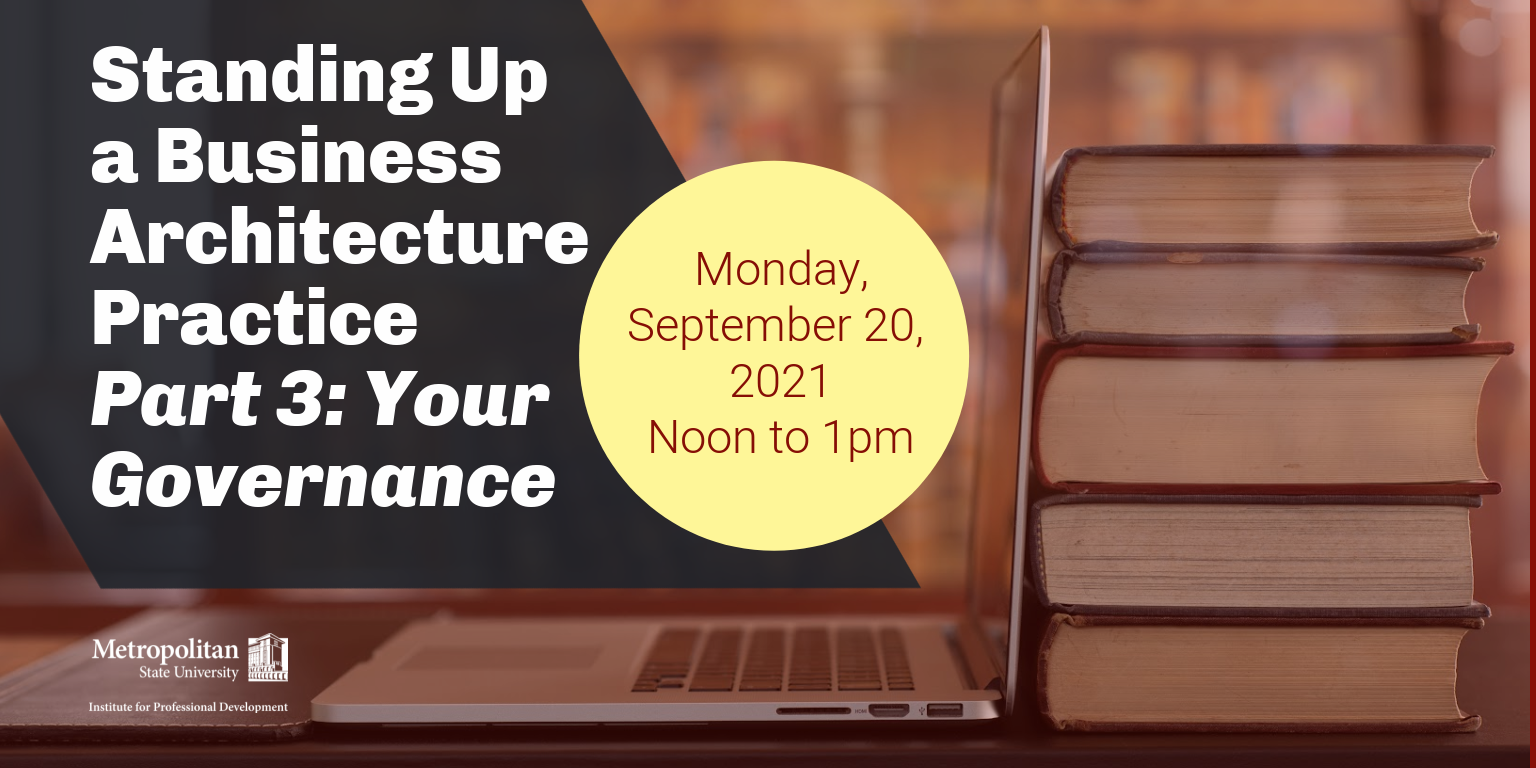 Monday, September 20th 2021
Noon-1pm Central
This is a continuation of Standing Up a Business Architecture Practice: Part 1: Your Value Proposition that can be viewed HERE 

Part 2:  Your Practice Charter that can be viewed HERE
This third and final session in Standing Up a Business Architecture Practice poses questions that should be considered when it comes to the governance of an enterprise-level business architecture practice.
Participants will learn about considerations for:
Engagement – How do others access your services?

Deliverables – What products and services are you providing?

Interactions – What are the roles and responsibilities of the people involved?
How do you stand up a business architecture practice within an organization?
This 3-part Expert Insights Webinar Series will provide strategies used by Maureen Mathias  to stand up a practice in her organization.
* Please Note 
This Expert Insights focuses on Business Architecture and is intended for an audience with a background or understanding of Business Architecture.
REGISTER FOR WEBINAR
*By registering for this webinar, I am agreeing to being added to the IPD monthly e-newsletter list.
Maureen Mathias earned her Master of Arts from Rutgers University, later adding a Certified Business Architect from the Business Architecture Guild and a Business Architecture Certificate from Metro State University in St. Paul Minnesota.
Maureen started a journey in 2008 that led to a career as a business architect. "Through the journey, it seems I have hit every situation you would want to avoid. One thing that stands out, is that a business architecture practice anywhere must fit the culture and the needs of an organization."
In her business architect role for an insurance company, she has established training for the teams that utilize architecture tools and for those that need to learn what business architecture is and how it relates to their day-to-day responsibilities for several years.
Maureen is excited to share her experience: what works and what does not as well as learn from the experiences of other business architects.
WATCH THE FIRST WEBINAR IN THIS SERIES HERE
Standing Up a Business Architecture Practice Part 1: Your Value Proposition
Standing Up a Business Architecture Practice Part 2: Your Business Architecture Practice Charter