The Great Resignation Is On!
This series of blogs studies the impact through the personal lens of your career ladder.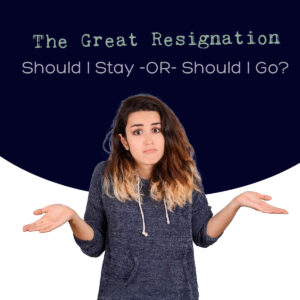 Part 1: Should I Stay or Should I Go?
(Coming in April) Part 2: You've Got Leverage
(Coming in May) Part 3: Make your Move
Before making any big decisions about your career, take a beat to assess your current working situation.   Some of you may be saying, "I just spent the whole pandemic doing that!"   Perhaps.
Evaluation is an important step because if you do not understand your current situation or what you want, you may go through a lot of change to end up in the exact same situation.  Or… you could land in a situation where you are worse off.
Current research indicates that 40% of people who leave an organization boomerang back around and rejoin it.   Therefore, before putting yourself through the emotions of change that go along with endings and beginnings, it is good to give the decision some thorough consideration.
Just as we teach in our business architecture courses, you need to understand the customer (you) and define the current state before you can assess gaps and make future plans.
Before making a move, evaluate:
Your reasons for leaving
Your current organization's culture
The total benefits and upsides of your current situation
Why Do You Want To Leave?
Before making any decisions about leaving, you should make sure you understand what you are seeking that you are not finding in your current work situation.   Answer these 12 questions to determine the "why" behind your desire to depart.
Am I seeking a new boss? If so, what traits am I looking for in a boss or organizational leadership?
Am I seeking better benefits? Is so, specifically what benefits do I want?
Am I leaving because I am burned out? How would a new organization rejuvenate me and prevent me from burning out again?
Am I leaving because I feel my role is being eliminated? How do I ensure my next role would not disappear?
Do I want a different work location? Do I want to go into the office instead for working from home?  Do I want to work from home?  Do I want a shorter commute?  Do I need a job closer to my daycare?
Do I want an organization that values me more in terms of appreciating and recognizing the work I do?
Do I need a role with a clear career ladder and professional development to help me keep moving forward?
Would I like more mentoring and coaching?
Would I like to make more money? What is my range?
Do I want a role that increases my responsibility or decreases my level of responsibility?
Do I want to be a supervisor or manager, or would I prefer an informal leadership role?
Have I learned something about work/life balance during the pandemic? Do I need to adjust to my work life to strike that balance permanently?
After answering the questions, consider how far away you are from the ideal role you seek. If there are just a few items that miss the mark, can you have a conversation with your current employer to get those items aligned to your needs so that you do not need to leave?
Is It My Organizational Culture?
Do not underestimate the role that culture plays in your job satisfaction.  In recent Great Resignation surveys, toxic culture was listed 10 times more than compensation as a reason to leave.
Your workplace culture is the shared values, beliefs, and attitudes of the people who work there.  The workplace culture is heavily influenced by leadership's actions, the organization's stated mission and values, and most importantly, if those 2 things are consistent.  Is the organization and its leaders doing what they say they are going to do?  Are they putting resources towards the values they promise to deliver?  Once there is disconnect between "the talk" and "the walk," it opens the culture door for lack of trust and disrespect that can permeate the entire organization.  This can make for a miserable work situation.
Take this True/False quiz to help you assess your current workplace.
It is really difficult to fix an organizational culture situation, but The Great Resignation may provide you the opportunity to seek work elsewhere and leave it behind rather than staying trapped.
What Are My Benefits?
If you have worked in a sector or with one organization for a long time, it is easy to think that all organizations offer the same perks and benefits as your current one.  That is not the case – especially if you are switching across government, corporate, and nonprofit organizations.  For example, I have worked in education for my entire career; I am still surprised when my corporate-employed friends talk about how they will spend year-end bonuses that equal 1 – 3 months' salary for me (or more).  Oh, that's right, some corporate jobs get bonuses; very few government jobs offer any bonuses.
Without careful examination, you may discover that you have taken a perk for granted, and the ones that you used and valued the most are not present in the new job.  And, in the worst case scenario – your salary increase disappears to pay for benefits that you no longer receive!
Use this form to tally your current benefits and make sure you understand your financial perks.
Now that you have your current situation defined and you know what you seek, the next 2 articles will give some tips for closing that gap by staying or by leaving.
For more information on this topic, see the list of articles used in the research.