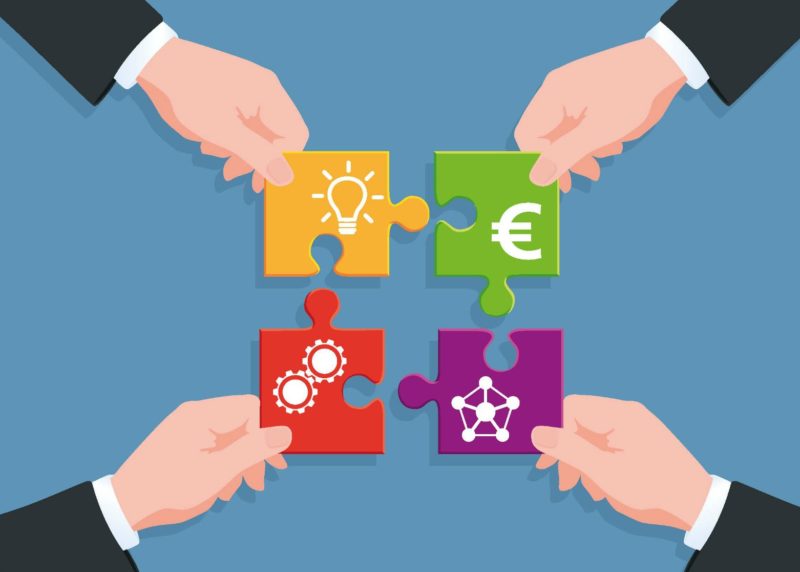 Project Management Series Options
Project Management requires a variety of skill sets – from the basics of understanding the concepts to the nuances of managing the people to the savviness needed to understand project purpose as it relates the business. This page contains suggested series groupings that can focus on any one of those areas, or we can work with you to design a unique series that targets exactly what your organization needs for project management.
Succeeding With Projects
3 full days
Up to 20 people
This workshop covers all the essentials of project management concepts, tools, and techniques that allow your project managers to work on large or small projects.  The workshop provides the knowledge to, not only scope a project, but also scope the use of the project tools to match the size of the project.  While the material is based on Project Management Institute® theory, participants will use an ongoing scenario to apply the tools to real-life situations.  As participants work through application, they receive coaching from an experienced project manager with PMP® certification.
This workshop is equally valuable to those who are new to leading projects or those who are experienced project managers and desire a refresher, as participants learn to:
Understand the role of the project manager through each phase of a project: initiating, planning, executing, monitoring and controlling, and closing
Build a common understanding project terminology and techniques
Increase a project's potential by applying project management tools and processes
Leverage critical teamwork techniques to get your project team to work together
Engage project stakeholders and sponsors
Understand when and how to use project templates
Describe the difference between project management and project methodology
Define project roles and responsibilities
This workshop includes meetings with the instructor to customize to your organization's needs.  Contact us for more information today!
Business Acumen for Projects – A Talent Triangle® Series: Modules that support the business skills connected to project management tools.
3 ½ days
Up to 20 people
 Module 1: Building the Business Case for Change
Change should come from business need.  Understanding the business need and how it applies to their team assists leaders in helping others navigate change and stay focused on the business need.  If leaders understand the "why" behind change and how it will benefit the organization, they have the information needed to move beyond resistance and sustain the efforts beyond launch. In addition, understanding the business case will position your leaders to measure results, request the necessary resources, and assist with problem-solving as initiatives move forward.   Participants will:
Identify common sources of change
Explain the linkage between an organization's strategy and change, and the role of the business case
Complete the non-financial sections of a business case and support the preparation of the financial analysis
Convert the intangible benefits of a change initiative into tangible, quantitative benefits and use them in the business case
Recognize the application of the principals of good data presentation
Identify crucial success factors and risk for a change initiative
Module 2: From Business Case to Project Charter
The two most common ways to receive a project are through a written hand-off of a business case or a verbal "make this happen." Having the ability to understand the business case need behind the project aids project managers in writing an effective project charter to increase the likelihood that the project will succeed. This course will teach project managers to take a business case and frame it in a project charter. It will also address the most critical parts of a project charter to help define the business need if it was not included in the project hand-off.
Understand how the elements of a business case transfer to a project charter
Recognize the audience for a project charter
Appreciate the elements of an effective project charter
Learn to critique charters with a best practice checklist
Write a project charter based on business case
Module 3: Risk
During this 1-day, hands-on, interactive workshop, participants will gain a well-rounded proficiency in identifying, analyzing, responding to and controlling project risk with their team and stakeholders.
A simulated project will be introduced and used as the context for participants to apply the project risk management concepts, tools and techniques. The simulation moves the participants through time and helps them discover information, documents and people who supply inputs to the risk activities the participants must perform/practice. The practice involves participants creating artifacts (such as a risk register) and then making adjustments as the simulated project goes through very real twists and turns!
 In this workshop module, participants will:
Apply Risk Management to a project
Gain the confidence necessary to practice project risk management
Universally recognized Risk Management terms and definitions
Practice working with team members and stakeholders to identify risks
Record risks (in a risk register) in a manner that enables the rest of the risk management process
Lead the project team and stakeholders through a qualitative risk analysis and how to communicate results using a risk matrix
Determine when a quantitative risk analysis is required and learn about several effective techniques (Monte Carlo, Sensitivity Analysis, Decision Tree)
Determine appropriate ways for the project to respond to each prioritized risk
Learn to continually review identified project risks and to enlist your team and stakeholders in staying alert to new risks
Module 4: Knowing the Customer Equals Knowing the Business
Project work serves a purpose.  That purpose identifies who the customers are.  Those customers have expectations – which makes their input invaluable.  Participants in this module will:
Identify customers (both internal and external to the organization)
Understand the dynamics of customer satisfaction
Define the five customer expectations
Ensure an understanding of customer needs and communicate them to business partners
Project Leadership – A Talent Triangle® Series: Modules that support the leadership skills connected to project management tools.
3 days
Up to 20 people
Module 1: Understanding the Effects of Change
Change is generated from the internal forces of rolling out new technology, staff turnover, and mergers or restructuring.  Sometimes, change bubbles up internally in the forms of continuous improvement or process improvement.  Or change comes from the economy, competitors, and other external forces.   Leaders need to understand their own reactions to change so that they can move others through these changes.  Participants will learn to channel change and:
Identify their go-to reaction to change and how that affects their work
Explain the change curve, its phases, and how it rolls out
Manage the emotions that come with each change phase
Define their role in helping people navigate through change
Module 2: Leading Stakeholders through Change
Gaining and keeping the support of key stakeholders is essential to the success of any change initiative or project. If your leaders are using the same email to report to every stakeholder, they are probably missing opportunities to keep stakeholders invested and enthusiastic about the organization's initiatives and projects. This module connects change theory to communication strategies for your project managers to:
Identify and analyze key stakeholders
Determine the messages stakeholders need to hear and when they need to hear them
Choose the best mode of communication for each stakeholder
Module 3: Using Constructive Communication
This module starts with an assessment for projects managers to understand their own preferred communication style.  It progresses to understanding how others like to send and receive communication.  Using these techniques will yield better responses with your sponsors, stakeholders, and project team members.  In this module, participants will:
Understand their own preferred communication styles
Assess the communication styles of others through observable behaviors
Explain how to leverage communication styles to give and receive feedback
Modify messages to communicate in times of stress and conflict
Module 4: Creating and Navigating Workplace Culture
Workplace culture typically falls into one of four types.  These types themselves are neither positive nor negative as long as they allow for successful projects and processes.  Understanding workplace culture, allows project managers to capitalize on its strengths and avoid the pitfalls.  Participants will be able to:
Define the four types of workplace culture
Identify the culture and subcultures of the work place
Understand how to maneuver in existing culture
Recognize how people take cues in their cultures
Apply knowledge of culture to strategically evolve their project work to align with changing external and internal pressures
Project Team Leadership – A Talent Triangle® Series: Modules that support the team leadership skills needed for projects
3.5  days (or 7  – ½ day sessions)
Up to 20 people
Module 1: Project Team Formation
Knowing how to guide a project team through change has a positive impact to keeping them engaged in work.  Leaders in this module will:
Understand their own reaction to change
Explain the phases of change and the diversity of how/when people process change
Recognize behaviors that support change or stall change
Connect team phases to the change process
Recognize behaviors that stall team building
Use tools to address behaviors that derail team building
Module 2: Crucial Conversations
Having a well-timed crucial conversation can prevent a small intermittent situation from becoming a big darn deal that impedes the work of the whole project team.  In this module, managers will:
Identify when and how to talk about difficult and uncomfortable issues with others
Explain brain habits and typical behaviors people use when in difficult situations
Harness the power of dialogue to diffuse situations
Use a strategy to identify wants and needs to turn the dialogue into actionable outcomes for finding solutions
Module 3: Creating a High Performing Team
Team members who enjoy their project team and enjoy being with their fellow team members are less likely to ignore their project work –  regardless of the challenges that come their way.  This module will:
Explain the essential ingredients of successful project teams
Show how to identify opportunities to improve a project team
Recognize project team development and how to guide it
Provide practice for using basic teamwork tools
Module 4: Getting Past No: The Art of Negotiation
The majority of a project manager's work day could be described as trying to get things from others: a task completed, a form filled out, a signature, a decision, necessary resources… Project managers will be more productive if they can negotiate; this module will help them:
Understand the five steps of negotiation to quickly connect for a "yes" instead of a "no"
Learn to negotiate with personal power instead of position power for mutual interests
Minimize actions that provoke a negative response
Employ active listening to hear obstacles to requests
Ask questions to clarify values and move forward
Delegate work in a manner that clearly communicates expectations
Monitor requests and delegation for quality
Module 5: Leading Through Conflict
Conflict is healthy.  Conflict encourages discussions to identify the root causes of the problems and analyze possible solutions.  However, conflict can make people uneasy.  Effective project managers know how to leverage conflict to be productive – not destructive. Participants in this module will:
Recognize when to engage in dialogue that is both assertive and cooperative
Develop expertise to discover solutions and present options to stakeholders that allow for the win/win
Find opportunities to collaborate that will generate value and improve relationships for both the project manager and the organization
Module 6: Facilitating for Input
This module focuses specifically on meeting techniques for gathering input. (For more thorough training on leading meetings, see the Meetings Matter series).  Leaders will learn tools for gathering input that go beyond asking the question, "What do you think?"  In this module, project managers will:
Build meeting expectations for input gathering before, during, and after the session
Know the decisions a facilitator needs to make to prepare for gathering input meeting (including – Is a meeting the best method to gather input?)
Prepare participants for an input gathering session
Know the best tools to use to gather input
Use tips and strategies to execute input gathering
Close the session with action steps
Call us in St. Paul today at (612) 659-7230 and let us help you mix and match any of our courses (or create new ones) to meet your specific needs.